The story of the Carpenter Bees and Digital Fixers!
Today, 20th May, is World Bee Day. This seems like a great day to release the Digital Fixers Bees into the digital wild.  Bees?  Yes, bees.  Perhaps a bit of background…
Back in February, on one of our many video chats, Nic announced she wanted a bee. Now, I adore bees, but it did seem a little random.  My first instinct was that Katie, our brand manager, would never agree to it!
It wasn't as random as I though. Nic had been speaking to Abbie Cornell, and Abbie thought bees would suit us.  Always industrious, working together, and Nic is in Greater Manchester, whose symbol is the bee. Although since the Manchester Area bombing, the entire North West has a special place in their hearts for Bees.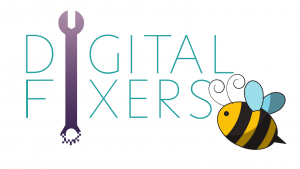 Emergency Call to Brand By Katie
Once you have decided to do something massive like add an animal/insect to your branding, you really do need to call in the experts.  And as I suspected, Katie's' first instinct was to say no, you can't have it! We talked about some other female led animals. But the list is short!
Thanks to World Atlas) I can confirm it is pretty much limited to:
Lemurs
Ants
Meercats
Mole Rats
Spotted Hyenas
Lions
Bonobos
Elephants
Killer Whales
Bees
But Katie loves a challenge, so after the zoom, where we laughed loads and I sent Katie my take on what the logo should be (thanks to Canva) we sent her off to investigate.
An hour later she was back.  Can we zoom again? 
Hell yeah! 
Is it the spotted hyenas?  (It wasn't)
And this was when Katie introduced us to Carpenter Bees.  They are amazingly on brand, being purple and blue.  And they are carpenters, so, they fix stuff!
A bit about Carpenter Bees
Carpenter Bees have a many different varieties. I was going to try and name some, but I wasn't 100% sure, so I'm just going to leave it!  I was slightly disturbed to see that most of the search results were for pest control companies in the states 😲, so I have stuck to Wikipedia, and this Wildlife in France  website which both have some great images.
🐝 Carpenter Bees can live in solitude but most of the females live in small colonies with their sisters and daughters.
🐝 Their black shiny bodies have a bluish tinge, and the wings on certain species have a purple sheen to it.
🐝 When females cohabit, a division of labour between them occurs. In this type of nesting, multiple females either share in the foraging and nest laying, or one female does all the foraging and nest laying, while the other females' guard. (source: Wikipedia)
🐝 Carpenter bees build their nests in soft wood. That's fine if it's a tree, but so many homes in America and Canada are made from wood, I can see the issues 🤣
🐝 The males don't have a stinger, but the females do. They are reluctant to use it though, unless provoked
And so today, on World Bee Day, we are so very happy to release our Bees. We want to say a massive thank you to Katie from Brand By Katie.  If you want some behind the scenes of how the bee came to life check out the Brand By Katie Facebook Page and the time-lapse video she did.
Thanks also to Abbie, who planted a seed, that grew into a Bee colony 🤣