Why Use Pinterest for Business?
Pinterest is one of the most important platforms that we can use when we are trying to drive traffic to our blog or website. There are loads of reasons that it's su useful, but by far the most overlooked one is simple; Pinterest is a search engine, in fact, it's the 3rd largest search engine on the whole interwebs.
Another reason to use Pinterest for business is that it doesn't have the personalisation that many other social networks have. By that I mean that people follow content, and not necessarily individuals. Success on Pinterest is not about your personality or the number of followers that you have; it's all about the content that you produce, which is in contrast to a lot of other more personal platforms such as Instagram and Facebook.
Pinterest is a very user driven platform so the user is shown examples of other similar content if they engage with one of your posts.
Here's our easy Pinterest starter guide for you to follow at home so stop using Pinterest to put up your Thinspiration pictures and ideas for that Orangery or extension you've never got around to building, and start using it to drive traffic to your website and generating income.
Step 1 - Pinterest for Business Account
Step number one is to make sure that you've actually got a Pinterest business account. It's really easy set up a Pinterest business account, there's no requirement for you to be a limited company or registered, you can simply just set one up. 
Since Pinterest is a search engine, it is crucial that your profile is optimised by using searchable terms and keywords that your ideal client would search for when looking for your content.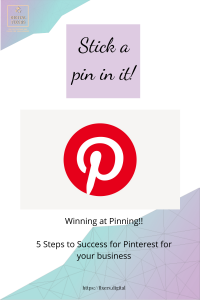 In order to take full advantage of the pinterest for business settings that are available, you need to get verified on Pinterest. There are full instructions here, and if you're using a website provider like wordpress or shopify, there are plugins which will do this for you.
Step 3 - Set Up Your Boards
Ideally you'll have a few different pillars of content, which form the structure of your blogs, your content and your products. If you don't have these consciously, you'll be surprised when you go through your content – you should be able to put everything into 3-5 different themes or groups.
On Pinterest, set up around 10 to 20 boards to start off with, each one should relate to one of your pillars of content.
For example, as Digital Fixers, our main content revolves around small businesses, tech for small businesses, affordable services, tutorials and so on.
Our Pinterest boards relate to the content that we produce and provide for our audience.
Now you actually need to start using Pinterest itself! This means creating graphics and images that are visually appealing to your ideal client and will send them to your website, blog or shop online.
The best pins are a 2:3 ratio, so portrait style pins work best.
Top tips for creating Pin-able graphics:
– For pins, use at least 735 x 1102 px
– For board covers, use 222 x 150 px
– If publicising a blog post or content, think of your pins like a poster advertising the content; give the title and a 'teaser', but you want to make sure they click to read the content!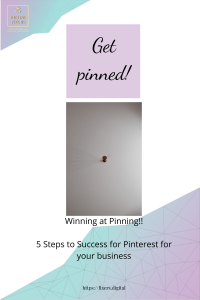 One of the reasons that Pinterest for business is so powerful is that you can customise the link attached to each image. This means that you can send users wherever you want – to a specific post, your main website, even your
facebook community
or an opt-in or freebie!
Hashtags are also used on Pinterest – the first 5 are the only ones that count, so use them wisely!