Why are there so many unsolicited emails on LinkedIn? Is selling really just a numbers game?
I looked this week, and I have been on LinkedIn since 2011. Back then I used it to make connections in the automotive sector, as we had a garage/paint shop business. And I used it to connect with people I met at networking events. That was it. I don't think a single sale came from LinkedIn. But now I'm back running a business that utilises social media, and it's time to get back in the LinkedIn game.
So why do I get so many unsolicited sales emails in LinkedIn?
A week ago, I was sent a connection request on LinkedIn, which I accepted. The next day I got an unsolicited email telling me all about the company he works for, and how much his services cost. They are a large company that does social media for businesses. Well, if you take a moment to do a little research, if HE had taken a moment to research, you can see that Digital Fixers teach people how to do their own social media. We do workshops, training, 1-2-1 and more.  More than that, we specifically work exclusively with small businesses.
So why would I be looking for someone to do it for me?  I'm no where near his ideal client, and he certainly wasn't the sort of person I would engage to do work for me, or my clients. We teach people to understand how to do this for themselves.  Often as businesses grow, they go on to outsource social media, but we think if you have the knowledge you can choose to either do it yourself, or work with someone that can do it for you, without being duped.
I didn't respond to his message.  It just seemed like a Here-is-what-I-do-and-why-I'm-the-best-at-it message, and I really wasn't interested. And then yesterday, I received another message from him…
"I'd like to speak to someone in your organisation to find out if we'd be a good fit to help your business. Could you point me towards the best person to speak to about this? Or please grab a call slot here: (link removed)"
Well, quite obviously he still hasn't taken the time to look at my profile, or my business. So, I replied:
"I'll be removing you from my contacts as I find your messages very spammy. My advice to you is to build relationships before you start spamming people. You might also want to check what business do before you spam them. For example, we are a small business, just 2 of us, and we teach people how to use social media for their business. I'm not interested in your services, and certainly wouldn't be pointing any clients towards you either.
Ideal Clients Are Not Found Like This.
I'll be honest, he probably couldn't care less about my unsolicited response to his Unsolicited email.  He probably connects to endless people every day, and gets a high percentage of people ignore him, and one or two a month respond like me. It's all part of the numbers game.  I'm often told LinkedIn, and indeed sales in general, is a numbers game.  The more connections you have the more you will sell. But to be honest, we don't want to sell like that.  We want to build relationships with our ideal client, because we like our ideal client. We want them to come back, and to bring more ideal clients with them.
If you would like to connect to me on LinkedIn, and not send me SPAM messages, my link is HERE
I promise not to send you unsolicited email messages in return.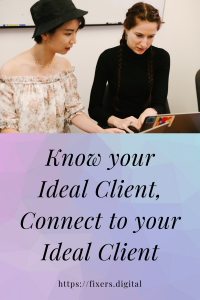 Ideal Clients
We've outlined a process below to help you identify your ICA. We've also created some Ideal Client Worksheets, complete with examples, over in our freebie vault, which you can find by clicking on this button: