Disclosure: Some of the links in this post are affiliate links and if you go through them to make a purchase we will earn a small commission. Keep in mind that we only share links of businesses we work with. All the links are through our MemberVault Affiliate link.
UPDATE: Change to pricing from 1St April 2022
The MemberVault team made an announcement on Monday 2nd Feb 2022 regarding pricing.  
From 1st April 2022 the free model and the $19 a month model will be going, so IF you think you might want to create a MemberVault account, take action now.  Click here to sign up via our affiliate link 🥰
When the Digital Fixers first launched, we looked for tools and services that would help us get our products to potential clients easily, and quickly.  We might be super-techies, but if the solution is simple and quick, then it's for us!  Our clients have a wide range of technical ability, so it needs to be simple to use, and consistent! We don't want to spend valuable time teaching them how to use out training!
MemberVault was the perfect place to host our lead magnets. It was so easy to setup and manage we quickly decided to become MemberVault Affiliates.  We have recommended MemberVault to a few clients, and helped them build their courses.
MemberVault is a platform to host courses, memberships, and digital products. Ones your members have signed up they will be able to access products they have purchased or signed up for. They will also be able to see your other visible products.
So, what can MemberVault used for then?
Lead magnets
Course hosting (of course!)
Drip fed materials
Template & Instructions
Employee Training
Challenges
Group coaching
Once we started using MemberVault we realised how popular it was! We signed up for some Trello Templates, and they were hosted, along with videos on using the templates, all on MemberVault. We have joined a few online memberships, where all the training and downloads are on MemberVault. 
How to use MemberVault...
Now, I am not going to waste everyone's time here and tell you how to use it, because the team at MemberVault have provided so much help there isn't much I can tell you that isn't covered in their Get Help section
I will tell you about a few things, like the Branding options.  Digital Fixers have rebranded since we launched on MemberVault, and it was the easiest product to rebrand! You can chose your brand colours, and create consistency through the site.
When you sign up for MemberVault you are given your own "VIPMemberVault" subdomain.  Ours is digitalfixers.vipmembervault.com.  
This can then be forwarded to your own subdomain, for example, we are going to change ours to something like courses.fixers.digital, or education.fixers.digital.
Videos are embedded links, so can be hosted on your normal video hosting platform, but files like PDFs and downloadable templates are all held on MemberVault.
Obviously, there are payment integrations. At the moment that is Stripe and PayPal, which both work well for us.
There is also Email integration, allowing you to connect with some of the most popular email tools directly, and an Zapier API integration for email tools that aren't directly linked. It also comes with some great instructions on how to connect them all up!
Zapier can do more than connect your email system though.  Being a lover of automation, I have a few clever automations going on.  Our #Membershit program isn't purchased via our MemberVault page. So, when someone purchases it a clever Zap goes and adds the products to their MemberVault account. And it is so easy…..
We have a monthly subscription for Zapier as well.  This means I can use the filter option, and I can add multiple products in the same Zap. You can't filter with the free version, but you can make separate Zaps for each product.
This Zap gets a trigger from Dubsado when someone purchases the #Membershit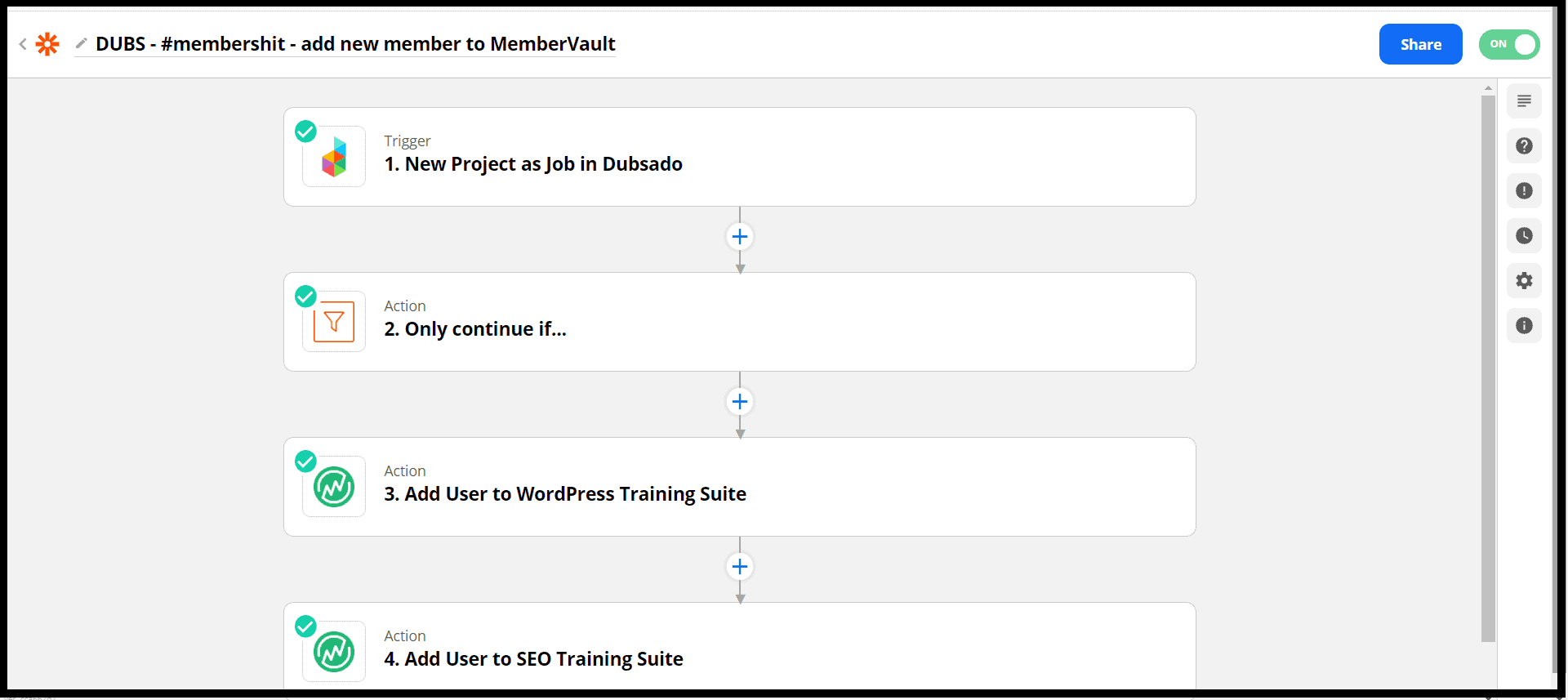 The action of the Zap adds the product number to the customer account. 
This means that even when a product is purchased outside of MemberVault you can still handle everything within MemberVault using automation.
Create your own Affiliate Program
MemberVault is all setup so your members can share links and earn commission! There is nothing better than when a super-fan recommends your products, so paying them for doing it is genius!

What about some Fun Stuff??
So apparently, not everyone thinks setting up automations is the best fun you can have with MemberVault.  Really?  OK, well, there is some other fun stuff in MemberVault too. 
There has been a lot of research in to Gamification in learning.  Using MemberVault you can allow users to earn Bonus Material. They get EP (engagement points) whenever they finish a module.  You can use the EP to give access to a new area, a download, or a bonus video.
And that can link in with the MemberVault Quizzes.  If you put a quiz at the end of a module you can stop the user from moving to the next module until they pass.  Or you can just add a fun quiz to keep people engaged.
You can create a bit of "friendly competition" with the leader board!  It is possible for the user to opt out of this, so they don't HAVE to take part – not everyone enjoys forced fun 🤣

Updated 06/06/21
It would seem I spoke too soon and MemberVault have now restricted how many live products you can have to just 3.  To be honest, buy the time you are selling 3 products the $19/mo should be paying for it's self. See the full details here.
So, let's talk about the price.  The Forever Free plan price is, of course, FREE! I know – what a bargain!  For that you get all the features of all the other plans, but the number of users is capped at 100 (and now limited to 3 active products).  For me this works so much better than limiting the functionality of the product. It allows you to build a course, test it, and even sell it, before there is any monetary commitment.
And, when you go over 100 users, the Starter package is only $19/mo. This gives you up to 1000 users.  The next plan, Base, is capped 10,000 users at $49/mo (**currently $39/mo using our link). 
There are bigger plans that you can speak to them about, but let's be honest, the free plan is probably where most of us will all start! Digital Fixers are on the Startup plan at the moment, and that works out at about £14/mo right now.

I don't even think we have scratched the surface with MemberVault yet. We did decide to host our training on our WordPress site, using a courses plugin. We decided it was bound to be easier.  And we were getting close to the limit of our free members.  So off we ran, created everything on Lifter LMS, but it was hard.  And I have another set of Zaps to create!  We've used it for almost a year now, but shhhhh, we're moving everything back to MemberVault 🥰  And that is why we are a shout out load MemberVault Affiliate. After a year of trying to make something else work we have realised – we had the right thing first time round!
We understand your requirements and provide help, support and solutions tailored to your budget - even if that's no budget!