Digital Coach - WTF is a Digital Coach Anyway?
When Lesley and I first 'got together' we knew what we wanted to do, but we didn't really know what it was called. I mean, everything has to have a name, right?! 
We'd heard the term Digital Coach, but we were (and still are) wary of self-styled 'coaches' and gurus and all of those types of things. 
There is a place for coaching, both personal and business coaching, but coaches are generally trained in a certain style of questioning and problem-solving which assumes that the coachee actually has the answers themselves and needs guidance to identifying them.
Well, that's not us! If you don't know how to link your social media to your email list, then there's no way of questioning or teasing it out of you!!
But a Digital Coach? How is that different and does it actually describe what we do?
Here's what we did know: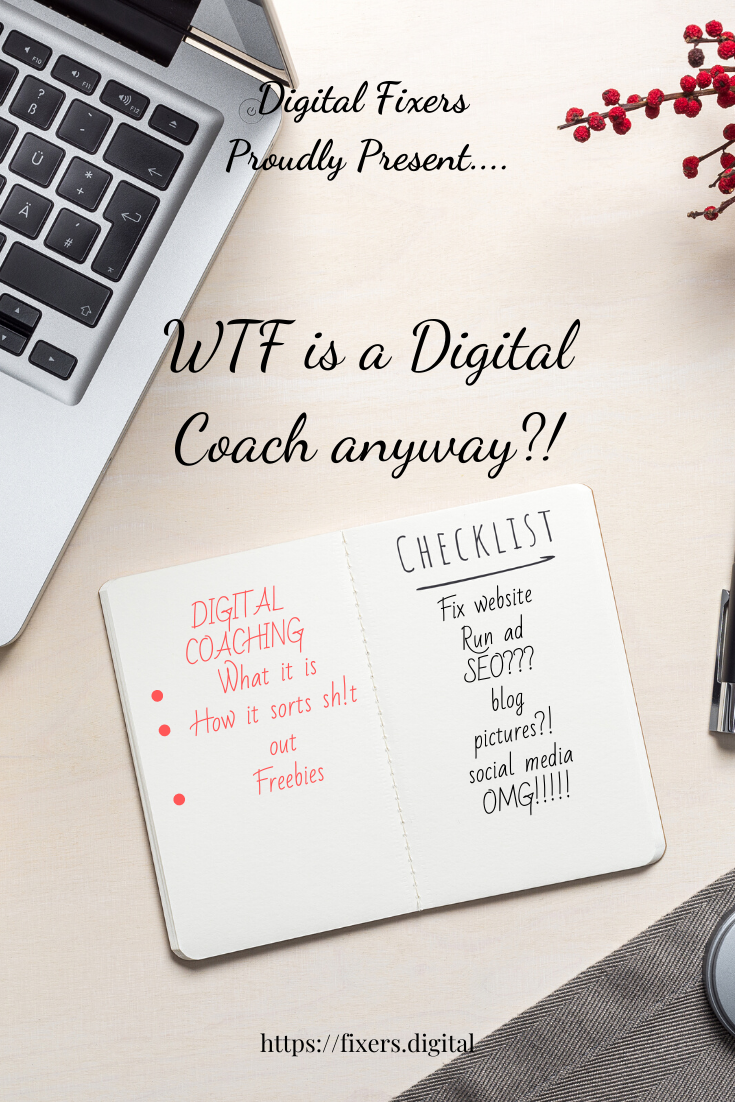 A Digital Coach Will Sort Your Tech Out
We knew we could help people with their business tech. We could optimise their social media pages, we could set up their websites, both e-commerce and service-based. We knew that we could guide people through the process of initial setups of things like Google Analytics, Search Console and integrating various services and providers for them.
We could even go one step further and help those who had built their websites and had thriving businesses to a certain point, but who had become 'stuck'. Sometimes it's a few teaks – other times it takes a complete change of direction.
Digital Coaches Focus on Your Tech Tools
Business coaches will focus more on operational matters; sales; recruitment; business plans etc. Digital Coaches will be much more focused on your tech stack – this is a term for all the tools that your business employs – email provider, website host, automation software and how your business operates with those tools.
Inevitably, there is a cross-over between the two services. we often talk with clients about email lists and providers for example, but that may lead into work around nurturing their ideal client, identifying their ideal client and making sure they give those people value.
Here it can be a grey area around business or digital coaching, or indeed mentoring. Coach vs Mentor is a tricky question in itself!
Businesses Need Digital Tools
We know that tech is often seen as an add-on for a business. Even e-commerce businesses see their websites and tech tools as useful for their business; but here is where we differ – we know that digital tools are your business.
Without tech, most businesses simply would not exist and others would not survive. People slam tech tools for taking away the human element of traditional marketing, but done well, done right, digital marketing can be just as meaningful and just as personal as traditional marketing.
Which Tools Would a Digital Coach Use?
Our approach to helping small businesses is very individual, but here are a few examples of the types of tech tools we have used for different businesses:
SEO Optimisation:
Search engines, keyword research tools, data on websites (shopify or wordpress), Ubersuggest, Google Analytics, Google Search Console

Automation across social media platforms:
Zapier, Facebook Creator Studio, Later

Content planning:
Google sheets (can't beat a spreadsheet!), Hubspot
Tracking Traffic
Google Analytics, Facebook Pixel, Analytics App
Driving Traffic
Pinterest (really!), Instagram, Google, Social Media Shops
The Main Differences Between Business Coaches and Digital Coaches
I hope this has explained what we do (kind of!), as Digital Coaches/helpers/mentors.
In essence, our approach is generally putting tech tools at the forefront and central to all the business' processes in order to meet their goals as well as streamline processes.